11 min read
ERP Software Lead Generation Tactics: That Really Work Marketing : Aug 29, 2022 3:44:10 PM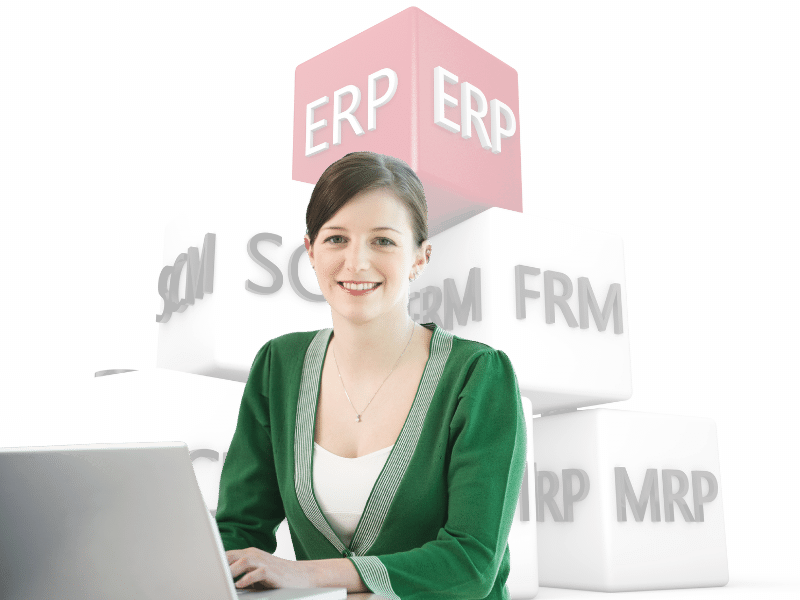 Generating ERP software and related professional service leads as an ERP Value Added Reseller (VAR) can be difficult work, especially those new to the industry.
More often than not, you are competing directly against large software vendors with large marketing teams and budgets. For example, Microsoft spent over 20B on sales and marketing in 2021. Not to mention the hundreds of other ERP Software VARs vying for the attention of those considering making a change to their ERP.
When you combine a lack of practical marketing know-how, coupled with a long sales cycle, the struggle is real, especially for VARs trying to drive new ERP leads plus juggle their current client demands.
If you're a ERP Channel Partner and not getting dozens of high quality leads each month from your website and/or blog investments this blog is just for you.
In this post I'll show you everything you need to know to start generating new ERP software and service leads in short order.
We've identified a handful of areas where we see ERP VARs struggle when it comes to their digital marketing and lead generation efforts.
Let's explore each of these briefly:
Lack of Support from ERP Vendors
ERP consultants across the board share in their frustration that they receive very little (or zero) leads from the ERP software publishers they represent.
And even if you are in an ERP ecosystem that does provide leads, if that referral source were to ever go away, you would be in a difficult spot if you haven't figured out how to generate ERP software and service leads on your own. (Don't find yourself in this position).
Additionally, several ERP software vendors such as Oracle-NetSuite, already have a large direct sales team staffed with hundreds of AE's and BDR's. It's practically impossible for ERP vendors to feed both their direct sales reps and their partners leads, therefore your only solution is to become fully self-sufficient at generating leads for your business.
Website Not Optimized for SEO & Conversion (CRO)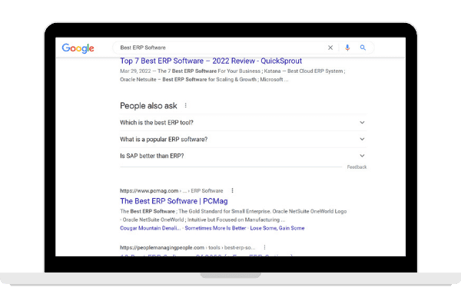 The vast majority of ERP sales cycles begin with online research. There's Bing, Yahoo and Google, with Google being the dominant search engine.
Therefore if your product or service is not being ranked on the first page (ideally Top 5) by Google you can pretty much forget about being found online. According to Backlinko, the top 3 Google results take 75% of all the clicks.
Further complicating matters is Google's ability to provide "instant answers" to many queries without the reader ever having to leave Google's search page for the answers.
Let's assume you've done a great job at SEO and driving substantial traffic to your site but you're getting too few form submissions, this leads me to believe you are creating too much unnecessary friction for potential leads to engage with your digital assets. (I'll show you some tips below to address this).
Inconsistent Content Creation
Blogs and other forms of content are great for gaining traction with Google keyword acquisition. However, it does requires consistency. Google is looking for fresh content from websites and chances are your competitors are blogging on a regular frequency. How do you make this a priority amongst all the other activities the business requires of you?
Lack of Keyword Strategy
Keyword research is a essential part of generating ERP leads. By understanding what keywords your audience is searching for, you can ensure that your content is visible in search engine results pages (SERPs). However, simply using popular keywords is not enough to guarantee success. Keyword research must be strategic in order to be effective. Choosing popular keywords that are almost impossible to rank for will be a losing battle without a killer marketing strategy. Or the flip side is focusing on long tail keywords that that are easy to rank for but ultimately drive little to zero traffic.

5 Things You Can Start Doing Right Now
As you are fully aware, selling ERP software solutions is not like selling commodity products and services. Your ideal buyer is going to be much more savvy and highly selective when choosing an ERP product, after all his/her credibility is on the line and it's the software they'll be living in every working day.
As you are well aware ERP is incredibly sticky, in fact, ERP systems are generally with a company for 5-10 years or more. Because of this, you need to fully understand your audience, their desires, their fears and their objectives related to this substantial undertaking.
We've outlined 5 steps you can take advantage of right now to start growing ERP software leads for your business.
Focused Keyword Research
Keyword research is the process of finding and analyzing the keywords that are relevant to your business and how it generates revenue.
Getting ranked on Google begins with understanding what keywords and phrases your buyers are using for their online ERP research.
The ideal keywords (or themes) for ERP Software VARs generally involve what we will refer to as "The Big 5 Themes", which include things like:
Price or Cost
Example https://www.cumula3.com/2022-netsuite-pricing

Product Comparison
Example https://www.cumula3.com/blog/the-ultimate-cheat-sheet-on-netsuite-competitors

Reviews (Customers / Analyst)

Best of List
Example https://www.cumula3.com/blog/quick-reference-guide-netsuite-partners-list

Problems (Your product/service solves)
These five themes are a good starting place to drill into the types of keywords/phrases a typical ERP buyer will query in Google once they begin conducting online research.
Once you've identified the ideal keywords you want to target, you'll need to determine if you currently rank for any of them.
If you are not sure how to do this there are tools such as Ahrefs and Semrush to help with this process. Here's a quick example:
This URL https://www.cumula3.com/2022-netsuite-pricing currently ranks for hundreds of keywords. Ahref's shows you what keywords you rank for organically, as well as the search volume, the keyword difficulty and more related to this asset.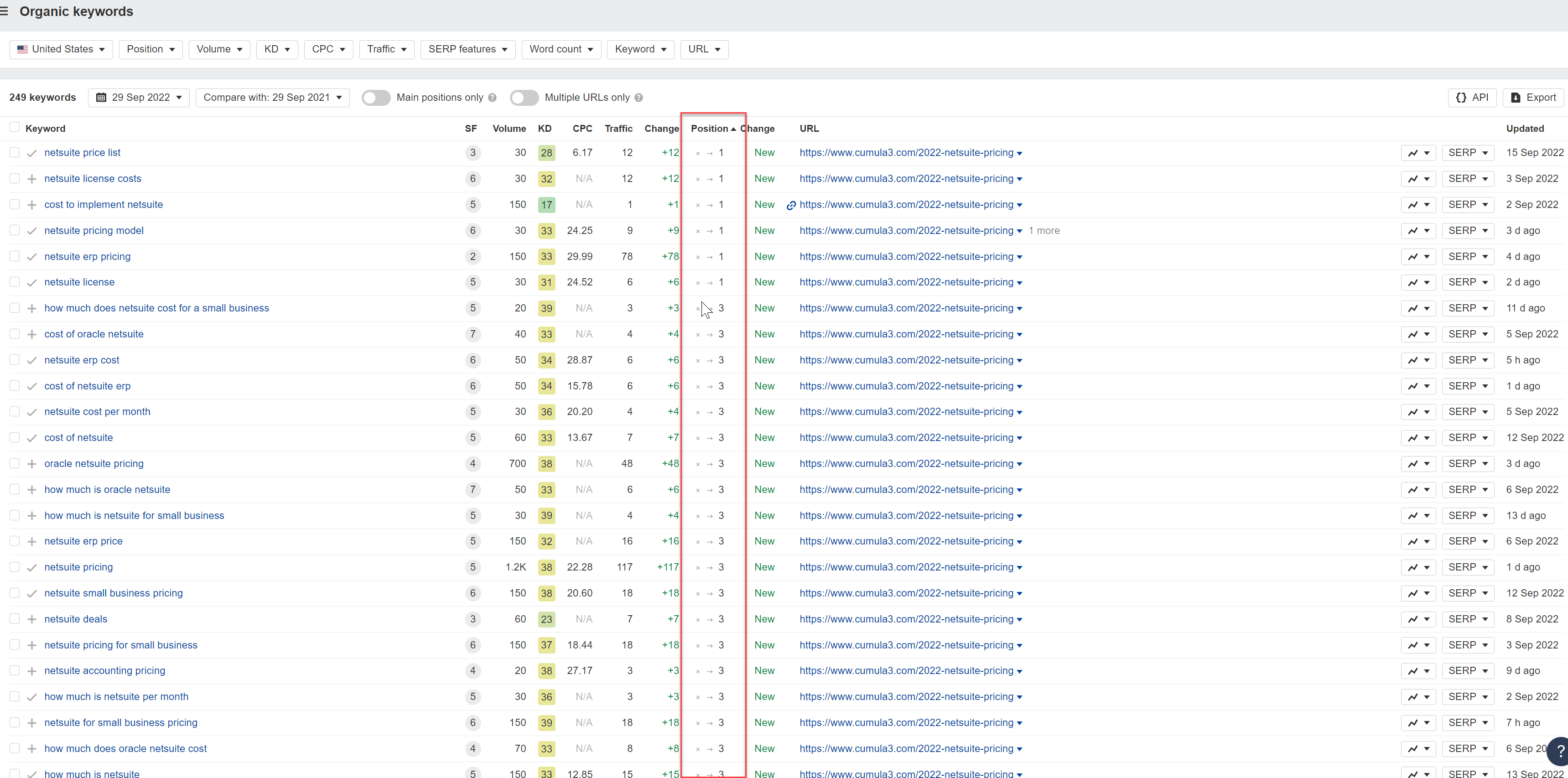 If you already rank for them, then it's just a matter of optimizing your existing content to increase your Google rankings.
Or if you don't rank for your target keywords you'll need to create new content in an attempt to rank for that particular keyword/phrase.
Next, you'll want to research and analyze what your competitors are ranking for and attempt to determine why their content is so effective at Google rankings compared to yours.
Having a good handle on SEO fundamentals and SEO tools will be important in helping you to choose the best keywords and the type of content you should create to support keyword acquisition and consistently rank at the top of Google.
New Asset Creation (e.g. Blogs)
After the keyword research is completed, you'll want to create an editorial calendar mapping your ideal keywords to the future content you are going to create and/or optimize.
You'll want to think through how to structure the content (e.g. Pillar & Cluster) and when you intend to publish it. Think of the editorial calendar as a blueprint for your inbound marketing program. This planning step is necessary to ensure you don't forget or miss anything and keeps you on track to hit your publishing goals and objectives which in turn will help you hit your revenue objectives.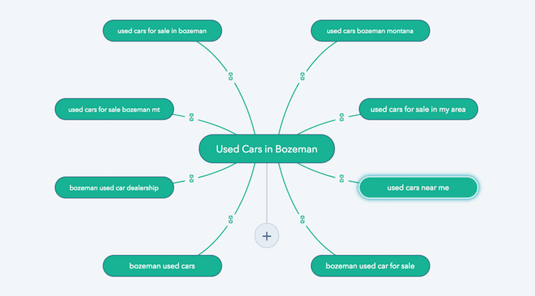 Setting up an editorial calendar can be as simple as creating a Google Sheet template to get your team organized or you may want to consider using tools like HubSpot's SEO tool to determine how to visually structure and link your content.
In my industry, it's pretty common to see marketing "professionals" write good content that's not properly optimized for search engines, and the same is true of SEO professionals only writing content for search engines.
For content marketing to be successful you need to write content for both human readers and search engines, you cannot neglect either one.
Content for Real People:
When creating assets for real people it's important for your assets to be readable and relatable. Content that is overly stuffy/technical tends to be skimmed over or tossed aside altogether. You'll want to capture the reader's attention by giving them the info they are looking for in digestible bites and ideally enjoyable to read.
Content for Search Engines:
It's one thing to write content purely for human readers. It's another to write content for search engines. Search engines have gotten really good at identifying content purely created to fool search engines. There was a time when unscrupulous marketers could simply stuff their pages full of keywords and rank highly in search results.
This sort of behavior results in a poor experience for the reader which leads to high bounce rates which happen to be a negative Google ranking factor.
On-page optimization of your target keywords are still very important, but less so. Search engines now look for many other factors such as page load times, the authority of the pages linking to your site, and the time readers spend on your site (dwell time).
These are all things that a search engine's algorithm will be taking into account when deciding to rank your page for a particular keyword.
Optimize Your Current Assets
On-page Optimization
On-page optimization refers to the various techniques that can be used on a website or webpage in order to improve its visibility and ranking in search engine results. This involves factors such as keyword selection and usage, title tags and meta descriptions, link structure, page speed and more.
By paying close attention to on-page optimization, you can help ensure that your website receives maximum exposure on search engines like Google, Bing and Yahoo. So if you're looking to improve your online presence, it's important to start thinking about ways to optimize your on-page elements!
For now, were going to focus on two primary factors:
Dwell time - the amount of time that people spend on a website/webpage
Bounce rate - the percentage of visitors who leave a site without engaging with any content or interacting with any other pages on the site.
Dwell Time
Dwell time in essence means how long the visitor stays on particular page. A longer dwell time is a positive ranking factor whereas a shorter dwell time is a negative ranking factor for Google.
The theory behind this is that readers who find your content useful and engaging should spend more time on your page(s).
One way to increase dwell time is to add additional content to your pages.
Another quick way to improve dwell time could be to add a simple video to your blog(s) providing a quick overview of the blog topic in video format.
You already have the subject matter covered, it's just a matter of creating the video, or partnering with a firm that can create this for you. Another great aspect about video (e.g. YouTube) is that it is indexed by Google, therefore you could potential rank really well with video even though you rank poorly for say a blog or webpage.
Finally, adding Chat to your website can also aid in dwell time and delight potential customers by providing them with timely responses to their questions.
Bounce Rate
Your bounce rate has to do with how well you are providing answers and information to your readers questions/queries once they click on your website.
An especially high bounce rate can indicate that users are dissatisfied with a site and are not finding what they are looking for.
One method for improving your bounce rate is creating new or additional Calls-to-Action (CTAs). A strong offer on your key pages encourages the reader to click, oftentimes to a landing page with some sort of offer in exchange for contact info.
If your offers consist of a single hyperlink text at the bottom of your website, its time to upgrade with buttons or images above the fold, or at a minimum not at the very bottom of your page.
HubSpot offers some entry level tools for quick and easy CTA and form creation to increase your conversion rate as well as help reduce your bounce rates.
If you are not sure where to get data about dwell time and bounce rate you can get this info for free from Google Analytics or if you use marketing software like HubSpot, you can get this data right from your individual pages analytics.
Site Performance
Google's PageSpeed Insights tool is a great way to check the speed of your website. The tool will give you a score from 0-100, with 100 being the fastest. Google also uses this score to determine your website's ranking in search results. So, if you're looking to improve your SEO, you should definitely focus on increasing your page speed. Google's Lighthouse tool can help you identify ways to improve your page speed. Lighthouse is an open-source, automated tool that audits your web pages and provides advice on how to improve them. Once you've used Lighthouse to identify areas for improvement, you can use Google's PageSpeed Insights tool to further test your changes and see how they've affected your page speed score. By making some simple optimizations, you can make your website faster and improve your SEO at the same time. Check out your website performance here: https://pagespeed.web.dev/
Backlink Acquisition
There are over 200 ranking factors that go into Google's RankBrain algorithm, yet Domain Authority (DA) and Page Authority (PA) is one of those areas where you can make some big strides in a fairly short amount of time especially for keywords you are already ranking in the top 100.
One technique that helps you grow your DA and PA quickly is backlinks from another high quality domain. You can get backlinks from other domains a couple of different ways but the most common comes in the form of Guest Post and Press Releases. We'll be focusing on Guest Post for now.

In a nutshell, a backlink is just a hyperlink from a website separate from your domain that links back to your website. You can think of a backlink as a vote of confidence in the eyes of Google's algorithm.
Ideally, you want the hyperlink text to be something relevant to the keyword you are trying to rank for. The hyperlink text is referred to as anchor text. Some SEO's claim you don't want to overly optimize your anchor text so that it does not appear natural, which we agree to a certain extent, however, the anchor text definitely needs to be relevant to the keywords you're trying to rank for.
Here's a quick example:
Let's say you just published a "Pricing Guide" for Microsoft Dynamics 365 BC, and the goal of that blog was to rank for the keyword "dynamics 365 pricing", you would want your backlink anchor texts to be something like this:
"Dynamics 365 pricing"
"Dynamics 365 cost"
"Dynamics 365 licensing"
Having the anchor text tightly aligned with your target keyword and other SEO elements (e.g. URL, title, H1, meta description, alt text for images) tells Google very clearly which keywords to rank this piece of content for.
You can do link building on your own (warning: very time-consuming & not scalable) by reaching out to your professional network to see if someone would be open to publishing content you create on their website with a link back to your domain.
Or, you can completely automate this process by partnering with a company that specializes in both the outreach and copywriting aspect of your guest blog, as well as understanding the nuance around anchor text density.
We suggest leaving it to the professionals so you can focus on what you do best.
Lead Conversion Optimization
Let's assume you took the advice above and are now dominating the Google ranking for your target keywords, you should begun to see a correlation between your rankings and an increase in organic web sessions. At this stage, these additional visitors are unknown to you. You'll want to turn this increase in organic traffic into known leads, sometimes referred to as Marketing Qualified Leads or MQLs.
It's very common for companies to use static forms with too many required fields for leads to receive more information, which can cause unnecessary friction. Furthermore, the prospect knows they are going to receive a ton of spam/sales calls or both, which they may not want at this stage in the buying cycle. Therefore if you try to gate everything of interest to your reader you risk them moving on to a competitors website that can provide them with the information they are looking for.
Therefore, we recommend other conversion tactics, for example, Typeform which replaces the typical form with a more interactive experience with logic jumps that you can build into your form making it interactive with the needs of your prospects in mind.
Interactivity is key when it comes to lead conversions. Leads convert because they are looking for information that you possess, right now. Why not give them some of the information in exchange for some of their information (e.g. email address) instead of a static form with too many required fields that makes them wait.
Online interactive quizzes and calculators are great at driving user engagement and conversion because it provides them with immediate information they are looking for right then and there on their terms.
Another great way to convert anonymous traffic into known leads is with reverse IP look up tools such as Zoominfo's (WebSights) feature or Lead Forensics. Both are solid choices for uncovering who is looking at specific assets on your website. On domain (primary data) combined with (third party) Buyer Intent data (e.g. Bombora or Zoominfo) can make outbound prospecting highly successful with the right messaging, frequency and call to action.
Sales & Marketing Alignment
Sales and marketing alignment is one of the keys to successful business growth. By working together to identify optimal customer segments, define market opportunities, and craft compelling messaging that resonates with prospective customers, sales and marketing teams can achieve amazing synergies in terms of scaling their business.
Sales teams can use insights gleaned from marketing activities to help close deals more efficiently, while marketing teams can leverage feedback from sales and use this information to refine their strategies and tactics.
To do this you'll need a technology stack that supports both sales and marketing. HubSpot Marketing Hub and Sales Hub offer a great technology platform for helping marketing and sales teams driver greater collaboration and tools for measuring program effectiveness.
In addition, by aligning your sales and marketing teams, sales reps will receive the type of leads they desire and marketing will get the credit they very well deserve for driving high volume and high-quality ERP software leads to sales reps.
In Summary
Generating ERP software and services leads on a consistent basis can be a real challenge, we've been there before. I would like to think we have perfected the practice of helping ERP VARs drive more web traffic, more sales-ready leads and more customers with their website investments but even we get tripped up from time to time with all the changes that Google throws at us.
If you are serious about growth and need a team that understands the ERP space and knows how to consistently generate more deals for your sales team you should request a meeting from one of our marketing specialist to show you how we can add value to your ERP consulting practice.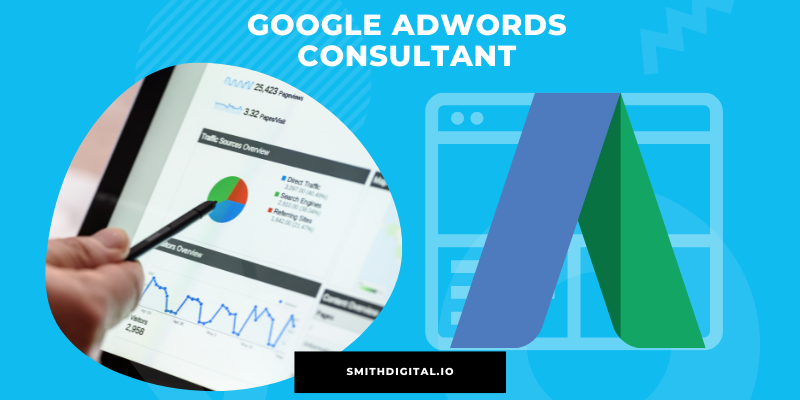 Almost 50% of small businesses have already started using pay-per-click (PPC) advertising to reach customers. If you haven't started using PPC yet,...
Read More